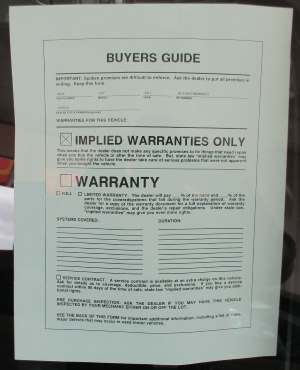 Used cars like anything else can have unforeseen issues. ALL cars, new and used, can have unforeseen issues. Nothing is perfect, nothing lasts forever. Eventually all cars and trucks wear out, or break, and need to be repaired. It doesn't matter if you bought a brand new car or a used car. Now that we have that out of the way, let's talk about it.

What you are really trying to decide is "what is the value of this car compared to it's usable life expectancy". In other words, do you want to take a chance on something major needing to be repaired while you own the car? And if something major does need to be repaired, do you want to have to pay for it then, or pay smaller consistent payments over time on a warranty as a guarantee against a possible major car repair expense later. Some people get held up thinking of the car warranty cost as being the same as making the price of the car higher, but in reality it needs to be considered as a repair and maintenance cost, not added to the price of the car. The decision can cause a lot of anxiety for both new and used car buyers. To help make it easier, here are some factors to consider:

1.) What is the reasonable life expectancy of the car from this point on?
2.) How long do I plan to keep this car?
3.) What are the typical repair and maintenance costs for this particular year, make, model, and mileage?
4.) Are there any repair and maintenance records for the car you are looking at to be able to determine if it was well taken care of, and what may have to be done in the future?

You have to know, when you buy a used car, or a new car, proper maintenance is the best way to keep your car running, and maintenance and repair costs are just part of owning a car. This is especially important for used cars. Some people believe that the car dealer has the responsibility to repair the car and pay for any issues that come up after the car has been sold. It is simply not the case. You have to realize that used car dealers have just as much risk when they buy the car for their inventory as the consumer does when they purchase them for themselves. This is simply due to the fact that neither the used car dealer, nor the consumer, can fully know the car's history before buying it, and can't predict it's future and what repairs it may need. Let's not forget the universal rule of "You get what you pay for". It would be foolish to expect a used car you bought for $2000 to last as long, be as good, as a used car you purchased for $15,000. Everyone knows that the $2000 car will probably need to be repaired sooner than a newer, nicer, more expensive car.

Most reputable used car dealers do their best to fix the issues they know about and provide the consumer with as much info as possible (such as their own repair records for what they did to the car and CARFAX history). But things do eventually wear out and previous owners do things to cars that they don't disclose when they sell the car to a dealer or trade it in leaving the dealership on the hook to discover the issue and pay to repair it before they sell it. If the issue doesn't surface and get repaired during the used car inspection that most used car dealerships do, then the consumer eventually will have a problem and fell like the dealership ripped them off. Having a good used car warranty can guard against these issues, and that's important because it is impossible for the dealership and mechanics to discover every issue every time.

For these reasons, we truly believe a good used car warranty can be well worth the price. Prices can vary depending on what the warranty covers, be sure to ask the dealership when deciding where to buy your next new or used car.