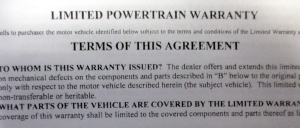 Used car warranties can be purchased at most reputable used car dealers at the same time you are buying your car. It might be a warranty program from a large national company, or it might be one that the used car dealer has put together themselves and they are the ones that back it. And depending on the type, any covered repair may need to be done at that specific dealership; be sure to ask just so you'll know what to do if you need a repair.
Most used car warranties cover at a minimum all internally lubricated parts of the engine and transmission. Some used car warranties will cover many other issues, and some do not. As the car gets older, and mileage increases, the warranties tend to cover less in an effort to keep the warranty costs and selling price lower. Higher mileage warranties usually do not cover sensors, electrical components, and/or things attached to the engine, like starters, fuel pumps, alternators, or things that are not part of the engine, like steering, and air conditioning, etc. For newer cars with lower miles, sometimes bigger and better warranties can be purchased, especially on used cars that have low miles and are only a few years old. Prices for pre-owned cars are based on age and condition and usable life, and the warranties are priced using the same factors. Older cars with more mileage have a higher chance of needing a repair, and warranty costs have to take that into consideration.

The reason you pay less for a pre-owned car is because the usable life of the car is less than when it was new. The same holds true on warranty costs and what they cover, only in reverse. When you buy a used car, you have to realize the components are older and will have to be replaced sooner than if you had bought a new car. How soon, and how much it will cost, is an unpredictable variable; no one knows and it varies from car to car. Th It is possible to take a used car and change out all the components and sensors and make the car practically as good as new so then you will have a longer period before anything wears out and needs to be replaced, but then of course the price of the car would be much, much more. In fact, it would be closer to, if not more, than the cost of a new car. All good and honest used car dealerships can empathize with our customer's concerns with regards to breakdowns, the costs of car repairs, and the value equation justifying the cost of a warranty as we ourselves often buy cars for sale that we then discover have several issues that we must fix; it is the nature of buying a pre-owned car. Again, no one can predict what will need to be repaired; we can't do it when we buy the car, and we can't do it when we sell the car. Some things can be a MAJOR expense which is what our warranty covers. However, if a used car warranty were to cover every potential issue then the warranty would cost more than the car, and that would just be silly.

A good used car warranty can be a great idea, just remember as the car gets older and the mileage increases that warranties may cover less issues in an effort to keep the costs lower.

At Max Auto Sales, we stand by our warranties, and have covered many repairs, including entire engines! Feel free to ask us about what our warranty covers.